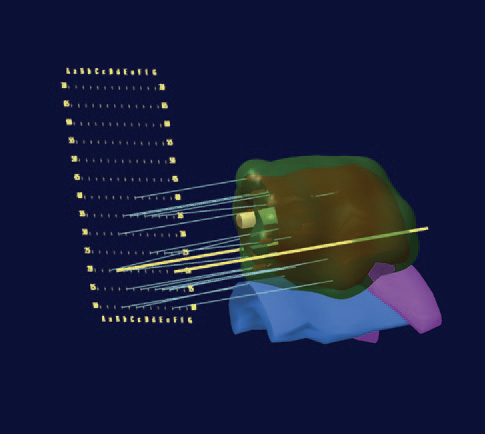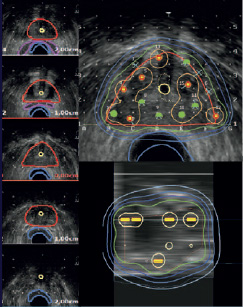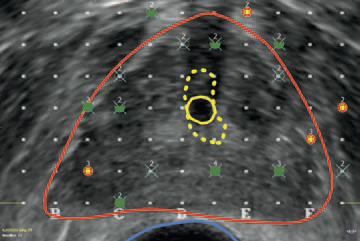 The projected structure outline displays the whole structure boundary in every plane of the 2D view.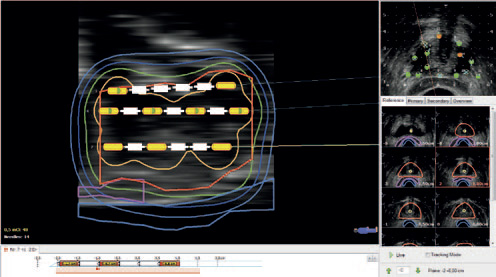 While editing needle and seed positions during interactive online planning, isodose lines are immediately updated (example with variable spacing seeds implant)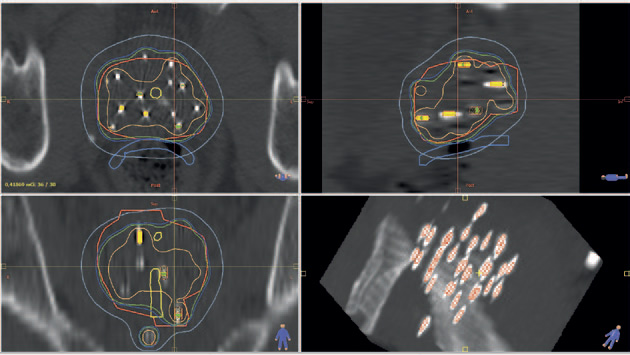 The DRR provides a superior overview where all seeds can clearly be recognized at once. Only with PSID, the user can edit seed positions on DRR view.
PSID 5.0
Permanent Seed Implant Dosimetry
PSID
Powerful, accurate and easy-to-use treatment planning software for modern permanent seed implantation.
PSID 5.0 is designed to meet user needs and to support new developments in permanent seed brachytherapy, including focal brachytherapy and expanded clinical applications.
Focal Therapy Support
As an exclusive feature of PSID 5.0, the user may fuse the live ultrasound images with any other image modality. Prostate images that include information about the lesion localisation (i.e. multiparametric-MRI, Histoscanning Images) can be fused with the live ultrasound images, offering live guidance for both focal brachytherapy procedures and precise transperineal focal biopsies.
Contouring on Live Ultrasound Images
Only with PSID 5.0, the whole treatment planning procedure can be performed on the basis of live ultrasound images. The user can contour the prostate and organs at risk on the live image on PSID, using the comprehensive contouring features. A digital frame grabber provides the loss-free digital connection to the ultrasound device.
Automatic Contour Tracing
Users who prefer to draw the contours on the ultrasound screen can transfer the drawn contours to the treatment planning system with a single click of the mouse.
Auto Seed Placement (Inverse Planning) PSID 5.0 automatically calculates the optimal needle and seed distribution to match user defined dose constraints for the PTV and the organs at risk. Moreover, the user may position some of the seeds manually and define the remaining seed positions with inverse planning (incremental autoplacement).
Variable Spacing and Different Seed Activities
PSID 5.0 fully supports planning with loose, stranded or variable spacing seeds and makes it possible to perform implants with two different seed activities of the same seed type. The user can plan manually with one type of seed activity and complete the plan using incremental auto-placement for a second seed activity.
Interactive Online Planning
PSID 5.0 supports interactive real time planning on transversal and longitudinal ultrasound images, with precise matching of planned seed positions in relation to actual seed locations. Dose distributions, histograms, and histogram parameters (i.e V100, D90 for the prostate or D1 for the urethra) are displayed and updated in real time with every change in seed positions. Image Fusion with Live Ultrasound Images PSID 5.0 can combine different imaging modalities (i.e. US, CT and MRI), which can be registered and viewed in single or fusion mode. As an exclusive feature of PSID 5.0, image fusion can be performed with the live images from the ultrasound.
Automatic Seed Detection
PSID 5.0 makes post planning evaluation fast and accurate. A state of the art search algorithm automatically identifies the seed positions in a quick and precise way. The whole CT volume image including all seeds can be projected on an enhanced DRR view, where seed positions can be edited. Although the operations are performed in the 2D DRR projection plane, PSID 5.0 is able to calculate and display the position in the 3D image volume.
Main features
Comprehensive Treatment Planning Software
Full compatibility with Windows XP/Windows 7
Multilingual user interface
Context sensitive help menu
Dose calculation according to AAPM TG 43 guidelines
Image Processing
DICOM 3.0 TCP/IP network interface
Import of all common image files, i.e. DICOM, TIFF, BMP, JPEG, PNG
Support of all template geometries
Image fusion of CT, MR or US image sequences
Contouring
Fast manual contouring of anatomical structures (copy-paste, drag, rotate, undo, …)
Automatic contour tracing
Contouring on transversal or longitudinal views (with 3D spherical cursor)
Interpolation of contours on intermediate slices
Definition of margins to organs
Projected structure outline of 3D-volume on all planes
Planning
Fast and accurate pre-, online and post planning
Simple online editing (placing, deleting, moving) of seeds and needles
Real-time calculation and display of isodoses and DVH parameters during seed positioning/editing
Inverse planning (auto placement) and inverse optimisation
Automatic peripheral loading
Needle placement with predefined needle loading patterns
Bending needle implantation technique support
"Undo" function for the last input
Plan with loose, stranded or variable spacing seeds
Display of dose rate and Hounsfield Units at the cursor position
3D and 2D display of organs, isodoses, seeds and needles
Extensive seed library and additional seed editor
Automatic seed detection and seed editing on DRR images for post plan
evaluation
Additional Features
Automatic calculation of seed activity based on UTC time
Customisable treatment setup (i.e. structure names, isodose levels, histogram parameters, used seed type) and user default settings (i.e. dose matrix resolution, depiction of isodose lines or contours)
Multiple institution data can be stored and recalled (institution and brachytherapy team information)
Comprehensive documentation via customisable treatment reports